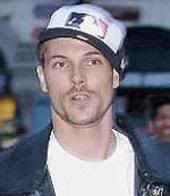 But KFed is!
Bowling trophy husband Kevin Federline has transcended the mundane and entered the realms occupied only by the immortals. Zeus, Freya, Aphrodite, Kate Moss…
Kevin Federline is a muse.
Canada's favorite Cuban, Perez Hilton, reports that KFed is the subject, object, be-all and end-all of a new song, courtesy of Boston rap duo Names & DJ Dirty Beagle. The meisterwerk is entitled Wake Up, KFed, and is available for downloading here.
And here is a sample of the madness that awaits. Right click and save, people. You know this is gonna rock every trailer park in America!
Wake up Mr. Federline
cuz we're calling you out, bitch

So Kevin, I saw you at a 7-11
You had an Us Weekly under your arm
and you stunk to high heaven
but you were psyched because that had you on the cover again
claiming you were weeding again
while Britney was at the OBGYN
So it's too bad you can't be a good dad
since you're about to get served by a college grad
who spits rhyme

So you don't like being called K-Fed
you can suck on my whole dick head

Oops Britney what are we gonna do
cuz we both know Kevin belongs in a petting zoo
So it's time to drop the other shoe
Send him packing with a Mountain Dew
it's alright sister
you win a few and you lose a few.