That just works on so many levels.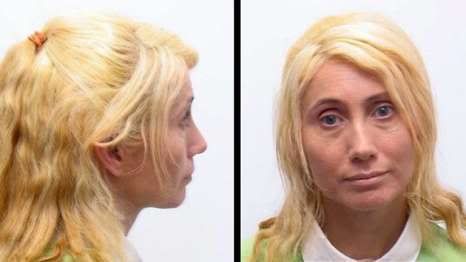 From the mug shots it appears that former Hollywood "It Girlfriend" Minnie Driver may have been spending the latter part of her extended hiatus (extended from approximately the wrap of Grosse Point Blank) in Norway, playfully pranking the locals who apparently didn't read People in the early Nineties and thus had no idea that they were supposed to, like, catch on to the fact that the woman claiming to be one Princess Anastasia Jerusalem was, in fact, an acclaimed international actress and accomplished and widely respected musician.
It's a joke, see. She's not really crazy.
Although I hear Matt Damon may be of a slightly different opinion.
Aftenposten, via Fark.
The woman, who calls herself Anastasia Jerusalem, speaks Spanish and English and was first arrested in Oslo on July 15 this year. She was released on condition that she report in regularly and has since been in Bergen.

Authorities have been unable to identify her, and do not even know what country she is from…
Her PR is so getting shitcanned for that line.