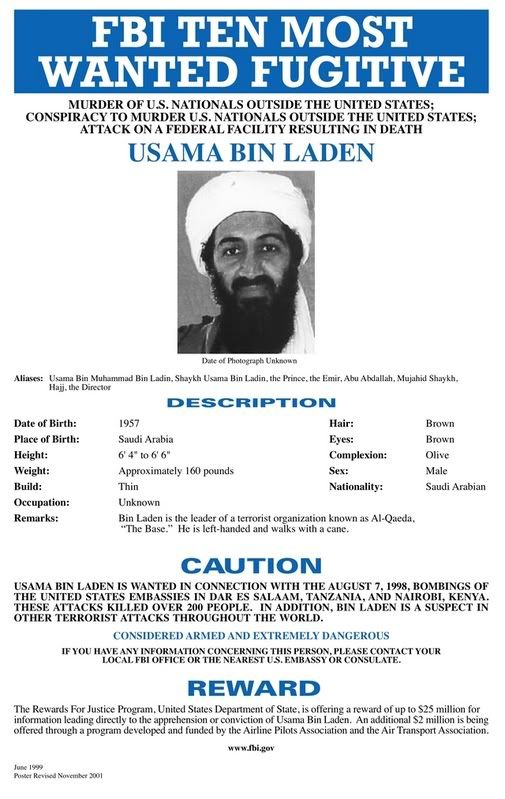 But we cannot prove they're exaggerated, and, in fact, we do not wish to, as we here at the raincoaster blog long ago decided that he must be dead, because he was obviously career-dead, and didn't nuthin' come between Osama and his public. Just ask Matt LeBlanc what conclusions the world draws when a formerly prominent media person stays out of the frame for that long.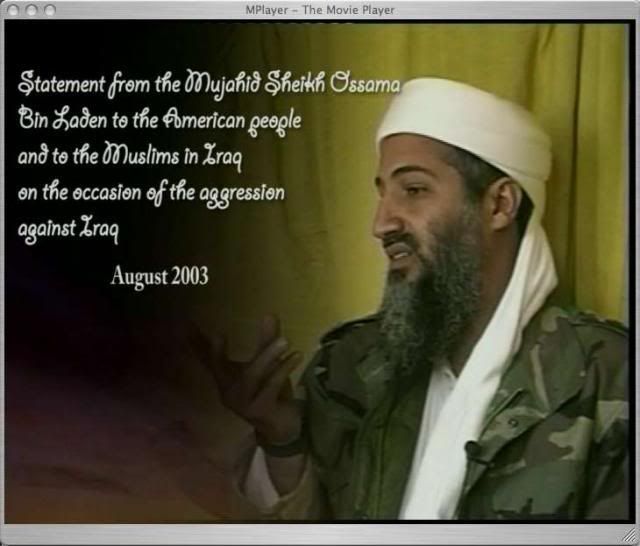 Note, however, that "unconfirmed," when it's said by a government official, generally means, "I'm not sure if we're supposed to admit that yet, so I'll check the guy in charge of media on that and get back to you."
from Le Monde. I'll see if I can coax a translation out of someone better than me at French, but feel free to jump in any time.
L'information sur la mort de Oussama ben Laden "n'est en rien confirmée", a indiqué samedi le président Jacques Chirac, qui s'est dit "surpris" de la publication dans la presse d'une note de la DGSE sur ce sujet.

"Je suis un peu surpris qu'une note confidentielle de la DGSE ait été publiée", a indiqué Jacques Chirac lors d'une conférence de presse à l'issue du sommet France-Russie-Allemagne.

"Cette information n'est en rien confirmée", a-t-il dit.

Une note de la DGSE, datée du 21 septembre et publiée samedi par l'Est Républicain, affirme que les services de renseignement saoudiens ont "acquis la conviction qu'Oussama ben Laden est mort" des suites d'une crise de typhoïde.

Cette information sur la mort de ben Laden, régulièrement annoncée par le passé et jamais prouvée jusqu'à présent, était cependant jugée peu fiable par des sources au Pakistan et en Europe suivant de près les activités d'Al-Qaïda, contactées samedi matin par l'AFP.
They found an American who can read Frenchish, apparently, over at MSNBC, so here's what they report:
PARIS – The French defense ministry on Saturday called for an internal investigation of the leak of an intelligence document that raises the possibility that Osama bin Laden may have died of typhoid in Pakistan a month ago but said the report of the death remained unverified.

"The information defused this morning by the l'Est Republicain newspaper concerning the possible death of Osama bin Laden cannot be confirmed," a Defense Ministry statement said.

The daily newspaper for the Lorraine region in eastern France printed what it described as a confidential document from the French foreign intelligence service DGSE citing an uncorroborated report from Saudi secret services that the leader of the al-Qaida terror network had died…

Document exists but cannot be confirmed
Defense Ministry spokesman Jean-Francois Bureau, clarifying the statement, said that the DGSE document exists but that its contents — that bin Laden is allegedly dead — cannot be confirmed.

The DGSE, or Direction Generale des Services Exterieurs, indicated that its information came from a single source.

"According to a reliable source, Saudi security services are now convinced that Osama bin Laden is dead," said the intelligence report…

"The chief of al-Qaida was a victim of a severe typhoid crisis while in Pakistan on August 23, 2006," the document says. His geographic isolation meant that medical assistance was impossible, the French report said, adding that his lower limbs were allegedly paralyzed. On Sept. 4, Saudi security services had their first information on bin Laden's alleged death, the unconfirmed document reported.

In Pakistan, a senior official of that country's top spy agency, the ISI or Directorate of Inter-Service Intelligence, said he had no information to confirm bin Laden's whereabouts or that he might be dead. The official said he believed the report could be fabricated. The official was not authorized to speak publicly on the topic and spoke on condition of anonymity.

U.S. Embassy officials in Pakistan and Afghanistan also said they could not confirm the French report.
Now, this may be terribly cynical of me, but does anyone else think that Pakistan is asking for just enough time to move the body across the border to Afghanistan? It just looks better than harboring America's greatest enemy as they have been doing all along, and as the Bush government undoubtably knew.